BRT150 Weights Bench - All-Round Weight Training
Many people prefer to train in their own home, which is not only cheaper but also more flexible than going to the gym. With the BRT150 Weights Bench, we have developed a multifunctional trainer that boasts a huge variety of options - the smart device combines 6 sports equipment and really stuns with its intelligent, space-saving folding function. The locking system allows you to work out at different angles of inclination, while the 6-way adjustable rail provides your body with ergonomic support - all your traning needs are covered.
Train Yourself to more Health.
Would you like to strengthen your abdominal muscles and your back, but not neglect your weight training at the same time? Then the SPORTSTECH BRT150 is ideal for you, because it is much more than just a weight bench. Thanks to the clever locking system, you can easily set the incline for your abdominal and back training to one of 3 levels. You can change it so quickly that you can supplement your own weight exercises with powerful dumbbell training with super efficiency - without the stress of rebuilding or spending a lot of time.
SPORTSTECH BRT150: Flexible Training.
When training at home, a reliable hold and the stability of your fitness equipment is essential. That is why we at SPORTSTECH have designed the leg support of the Weights Bench BRT150 to be flexible so that it can be quickly adapted to your particular exercise. The non-slip footrest, which thanks to its surface structure offers ideal support, ensures effective and carefree training. Completed by an evaporation-promoting foam coating, the all-rounder, the SPORTSTECH Weights Bench BRT150 won't let you down, even during sweaty workouts!
You Won't Slip and Slide.
Your BRT150 Weights Bench should of course both protect your home floor surfaces from scratches and dents and stay stable in its position during your workouts. That is why we have engineered the special anti-slip design, thanks to which your fitness equipment with its extra-wide rubberized feet does not lose traction and is always reliably by your side. Best of all, thanks to its clever design, you just need to open the SPORTSTECH BRT150 - training just couldn't get any easier!
It Just Works - the BRT150 Weights Bench
Creating your own home gym is often a question of space. We at SPORTSTECH are aware of this and have equipped the BRT150 Weights Bench with an easy-folding system. This is how, thanks to the quick-release function, you can fold your flexible training partner flat in just a few simple steps and stow it compactly under the bed or behind the closet. We want you to be able to work on your fitness and health even in the smallest of spaces - and so achieve the long-term success you deserve.
SPORTSTECH BRT150: Strengthens Your Arms
Thanks to the robust handles, the Weights Bench BRT150 is ideal for your arm and upper body training. Dips are particularly effective strength exercises that really challenge you with the help of your own body weight - this is how you define your upper arms and shoulders with ease. Would you like to train certain muscle groups more specifically? No problem, because thanks to the hard-wearing, water-repellent padding, there is nothing in the way of biceps curls with dumbbells or barbells - and it is super comfortable and reliably stable for safe training.
Power for the Abdominal Muscles
Would you rather focus on strengthening the central body part and the abdominal muscles? Then crunches and sit-ups are recommended, because these classic exercises ensure balanced stimulation of the front and side abdominal muscles. The BRT Weights Bench boasts adaptive leg fixers which helps you to optimally stretch your body and thus increase efficiency in your workout. Work on your dream body now - the SPORTSTECH Weights Bench BRT150 supports you!
A Fit Back with the BRT150 Weights Bench.
Many people struggle with back pain and tension - often due to insufficiently developed muscles in the back and neck. The BRT150 Weights Bench puts an end to this: Strengthen your back with back extension exercises and say goodbye to avoidable pain. In the flat position, you use the handles of the flat bench perfectly for push-ups to develop your core muscles, pecs and triceps - all-in-one effective full-body exercise options.
Speedy Set-up with Video Instructions
Would you like to get started right away and finally try out the various exercise options of the BRT150 Weights Bench with 6-in-1 function yourself? Then use our video assembly instructions for quick and uncomplicated assembly, which will give you professional tips for assembling your fitness equipment and thus avoid mistakes right from the start. Simply scan the QR code in the manual and start the quick set-up of your SPORTSTECH BRT150 immediately - it couldn't be more simple or more time-saving!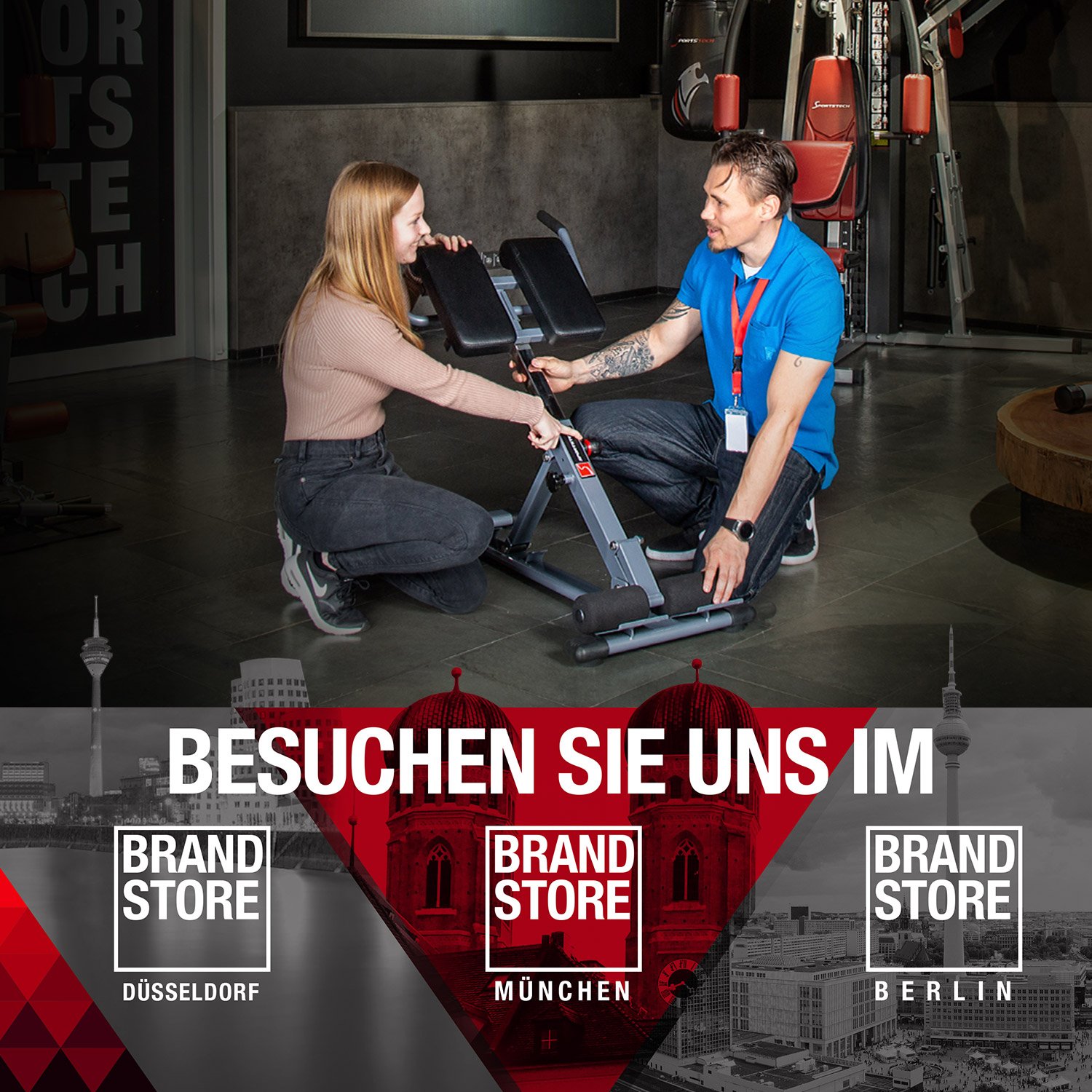 Limitless Training: Weights Bench BRT150
The Weights Bench BRT150 from SPORTSTECH offers everything you need to organize your strength training at home through mutiple options. You not only train with your own weight, but also with your favorite fitness accessories - and you only need one piece of equipment. Would you like to take a closer look at your new home training partner before you decide? Then just stop by our brand stores in Berlin, Munich or Düsseldorf and do the live test of our products. In addition to the Weights Bench BRT150, you will find many other abdominal and back trainers such as the BRT100, BRT200, BT300, BRT500 and the matching dumbbell sets AH150 and AH300. Experience the amazing variety of fitness options - with SPORTSTECH!
Technical data
GENERAL DIMENSIONS
Carton dimensions (LxWxH)
109,5x47x14,5 cm
Dimensions in use (LxWxH)
108x64x77 cm
Dimensions folded (LxWxH)
109.5x45x12.5 cm
BASIC INFORMATION
Surface material
Steel Coating
Number of individual parts
9
Upholstery material
Leather, PVC, Sponge, Rubber
TRAINING SYSTEM
Type of training
Strength training
Possible exercises
6 + Dumbbell exercise
BRT150 BACKTRAINER Manual
S
Customer Reviews
Write a Review
Ask a Question