DFT200 Office treadmill Demonstration Model- Add movement to your working day
With the DFT200 treadmill from Sportstech.
Whoever believes that work and movement do not combine, is strongly mistaken. Because with the DFT200, these two worlds come together perfectly. Leave your office chair behind, because sitting too much during the day can make you seriously ill. Movement, on the other hand, improves endurance, blood circulation in the brain and therefore concentration and keeps you fit and healthy. So..: Get up. Get up. Running. Go.
Highlights at a glance
Compatible with application
Holder for tablets
Practical feet
Wall mounting
Maximum speed: 7.1 km/h
Simplistic and modern design
Remote control
Optional handles
Maximum user weight: 110 kg
Your top-of-the-range treadmill
Fit and healthy at work and at home
calorie consumption per hour at work
Enjoy your work day
now with more movement!
Ultra
Flat dish
Easy and quick storage anywhere - thanks to the transport wheels
lofty
Design
Precise details with high quality real wood
Flat, chic
and mobile
Practice anywhere,
wherever you want!
2 storage -
options
Practical pedestals and shelf holder included!
Practical pedestals....
...and tablet holder included!
The laptop computer, as well as the tablet / smartphone, which is required to use the application
, is not included in the delivery.
Inklusive
Tablethalterung

und

Fernbedienung!
Contrôle Compatible
with Fitness App !
Speed ( As a level)
the route
Calories
Pause / Stop
Fonction
Times
Steps to take
van fit
van fit
The laptop computer, as well as the tablet / smartphone, which is required to use the application
are not included in the delivery.
3 real wood colours available
Light brown, dark brown and silver
Deskfit pole
for more comfort during training!
The laptop, tablet / smartphone, floor mat
and treadmill are not included in the delivery.
DFT

200

-Smart storage:
to save space!

With transport rollers.
Technical data
DIMENSIONS / WEIGHT
GENERAL INFORMATION
Treadmill
DFT200 Office treadmill Demonstration Model Manual
Tablet holder

Running speed up to 7,1 Km/h

Practical feet

Maximum user weight 110 kg

App compatible

Handy remote control
Customer Reviews
Write a Review
Ask a Question
BEST TREADMILL EVER?
I have always been looking for that ultimate piece of fitness equipment, one which is effective, and easy to store when not in use.I have tried everything, and had almost lost all hope, until I took a chance on one of these.I have to say that it really is amazing.Upon taking it out of the box, all I had to do was connect the U.K. plug adaptor to the plug, add two AAA batteries to the remote and turn it on.It works really well, it is quiet compared to previous treadmills I have had, and I was suprised to find out that I can jog on this on the higher settings.I am 6ft and have fairly long strides, and this treadmill has enough platform for me to comfortably jog on.The design is very sleek and modern, I chose the silver and it looks really sexy.The remote control is brilliant, very simple and efficient.I received it within 10 days of ordering it.I think the most exciting part for me is just how ergonomic it is, I used to have to store my treadmills in the garage because of how big and baulky they were, but this one is just as robust, but it also fits under my bed.The designers of this treadmill should be very pleased with their efforts.I can now say that I have found the ultimate piece of exercise equipment.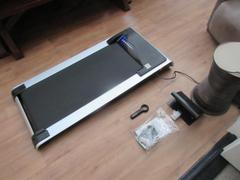 Does the job
I bought this because being stuck at a desk for 9-10 hours every day doesn't leave a lot of time for exercise and just sitting the whole time makes me seize up! I use it in conjunction with a height-adjustable desk (I bought a Flexisport frame that adjust horizontally to fit your space, and then vertically at the touch of a button) and so far it's been good. I'm not looking to get fit by using it, although it does go up to something like 7 km/h, a couple of km/h quicker than my normal walking pace, so I could get a fair cardio session if I wanted. I only want it to keep me moving while I work and increase my step count though, so while I'm working I just use it at a low speed. I was slightly worried initially that the power cable didn't seem to plug into the machine very securely and that it might disconnect/ stop suddenly if the cable was knocked, but so far - touch wood! - that hasn't happened. Something I'll be keeping an eye on though. Fantastic to be able to lift it and stand it up on its end with the legs that attach to the front: hardly takes up any space like that and I can just stand it up at the side of my desk where it doesn't get in the way at all. In the second photo attached, it's standing on its end in front of my Teeter Hang-ups 'upside-down' machine (yes, I hang upside down from my ankles using this contraption!), so it's terrific that both machines can fit in that space and not get in the way. It's fairly easy to move about too: it has little wheels on the front so you can roll it around, which really help when I put it into position under the desk. Plus a handily placed metal strip across the underside - no doubt there to make the thing more rigid and solid, but also handy for moving it when you're not able to use the wheels (i.e. when shoe-horning it through a narrow gap, out of the way!). All in all, pleased with it so far.
Perfect for every day's workout.
Fast delivery and very good quality product. I use it since 1 week and results are already visible. The application is a bit old fashioned and does not communicate with other divices but using a fit bit while working out and this way I can trace much better the workouts, so all in all I found the way to have all health related data in one app.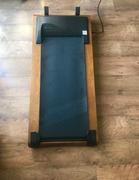 17/08/2019
Mrs. Maureen Cater
Very pleased with the item
you need the handle
Great product great service
I've had the product for 2 weeks now, it's completely transformed my lifestyle...easy to use, not very noisy and intuitive. Well worth it and looks good too! Heavier than I expected but not too much of a problemThe company are responsive and quickly resolved minor issues.